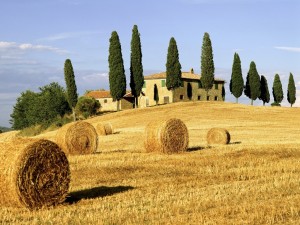 Forty years ago when one thought of Italian wines one could only imagine cheap light chianti in squat wicker-covered bottles. Strict regulations written in the 1960's establishing Denominazione di Origine Controllata (DOC) regions limited the ability to make quality red blends in Tuscany. Instead of insuring quality, they established the mediocre chianti made from 70% sangiovese blended with 30% white wine as the norm. In an effort to bring better quality blends of red wines with "non-approved" grapes to the market, Tusan producers decided to buck the DOC regulations in the 1970's and started making wines from all kinds of blends including cabernet sauvignon, merlot and other grapes. Thus, Super Tuscans were born. In 1992 Italy introduced the IGT (Indicazione Geografica Tipical = typical regional wine) designation to provide a regulated quality region (85% of grapes must be from that region) different from the DOC's. After 40 years of evolution Super Tuscans have really stepped up their game and this region produces some of the world's finest wines. Join us for a tour of Tuscany as we sample some Super Duper Tuscans.
Super Duper Tuscans
Hosted by Jeff and Ann Clark
1909 E Rose Creek Parkway S, Fargo
Saturday, April 12, 2014
7:00-9:00 pm
$25 members per person
$30 non-members per person
Please rsvp by Thursday, April 10.