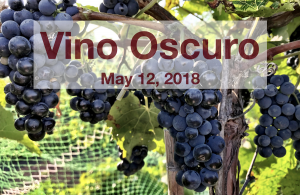 Babich, Valdiguie, Sagrantino, Bobal. These are just a few of the obscure grapes we will explore at our next AWS wine tasting. While we are most familiar with a handful of vinifera grape varieties for wine (e.g. Cabernet Sauvignon, Chardonnay, Pinot Noir), there are over 10,000 different grape varieties for wine. Join us on Saturday,  May 12 to experience some of these lesser known more obscure varieties.
Vino Oscuro
Saturday, May 12, 2018, 7:00 pm
hosted by Tom and Barb Gravel
1242 Cimarron Blvd., West Fargo
$25 members, $30 non-members
rsvp by Thursday, May 10.